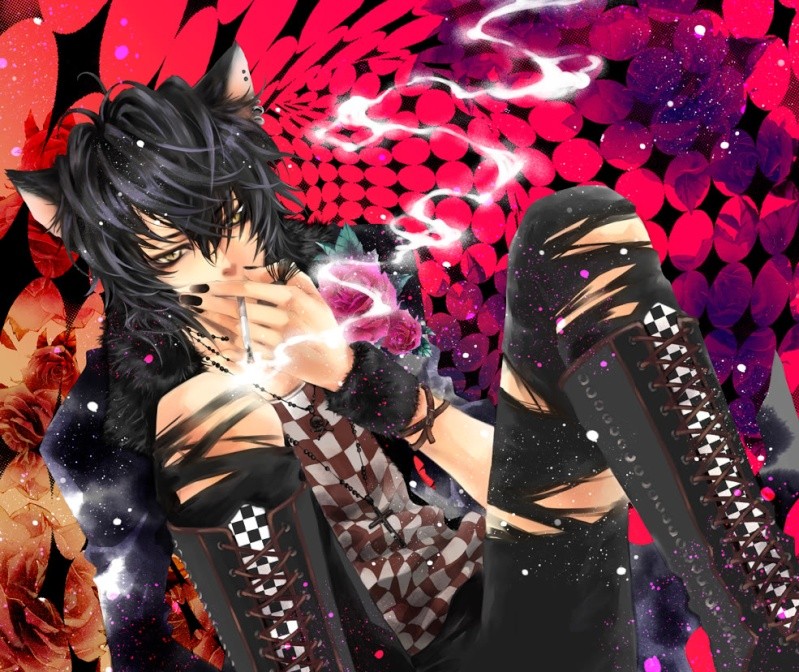 General InformationName:
金色の闇
Meaning of Name: Konjiki no Yami/Golden DarknessNickname: Yami or KonjiAge:
17
Birthday:
July 17th
Gender:
Male
Race:
Vampire Neko
Sexuality: BiOccupation: Student, Lead Singer and Guitar in Daylight Shadows, Part-time Worker at his aunt and uncle's cafeRelatives: A twin brother named Konakiro no Kyōki and a cousin named Kitsune Yuiko. Also his cousin Kuro Kage no Chi, his aunt Tsukihana and uncle Ryuu.Appearance:Skin:
Is slightly tanned, but not too much so. His skin is soft, and is almost constantly slightly warm to the touch
Height:
170.18 cm/5' 7"
Weight:
51.7 kg/114 lbs
Eyes:
Dark gold in color, with black cat like slits. His eyelashes are very long and thick (and black in color) Also wears black eyeliner, and a small amount of black eyeshadow
Hair:
Dark black in color and very shaggy, his bangs cover his eyes almost fully. He sometimes wears clips or bobby pins in his bangs, to hold them back
Body Structure:
Very thin, and scrawny, but has some muscles
Marking(s):
Has several tattoos on his body, one on his left shoulder, on his lower right hip, his right wrist, and on the left side of his neck, just under his jaw. He also has quite a few scars, all over his body.
Ears:
Black, with a pinkish inside
Tail:
Long, sleek furred, and black in color
Clothing:
Wears the typical gothic/emo styled clothing, black and red colors, and sometimes checkered black and white. His favorite outfit is a red and white checkered tshirt, with a black collared zip up jacket that has fur on the collar, black torn leggings, and knee high lace up boots, with a black and white checkered design.
Jewelry:
Wears several black beaded necklaces, one with a cross and another with a skull and crossbones design. On his thumb he wears a black string like ring. Has several earrings. Also wears a black cat collar with a silver buckle and a tiny silver bell on it. On his right wrist he usually wears a variety of bracelets.
Other:
Paints his nails black
Voice:
Has a sexy voice, kind of low but not too much so. His voice has a slight British accent. His laugh is really enjoyable to listen to as well, and nice to listen to.
Personality:
Yami is sort of distant, but not with his friends. He is close knit with his buddies, and likes to have parties, but not too often. He is kind of a rebel, getting into trouble a lot, but he's still quite popular, despite being classified as gothic/emo. He likes to play pranks and tell jokes, and pretty much just have fun. When it comes to someone he likes, he gets really shy, and quiet, not sure what to say or do around them. He often blushes, and stutters when he talks to them, and is pretty much nervous all around. He is very protective of those he cares about, going out of his way to keep them safe from harm. He has a fear that some day his past will come back to haunt him.
Background:
Yami was born and raised in Japan. His father was British, and his mother was Japanese. He was home schooled from first grade to eight grade, as well as his freshman and sophomore years. He was just entered into high school when his father died in a tragic car crash, and a few days later his mother and sister perished in a terrible house fire, as it was his mother who home schooled him. Surprisingly he got along quite well, and became popular really fast. So far he hasn't found anyone he likes, but he's had lots of girls and even guys ask him out.
Abilities:
Is fast on his feet, very agile, and is quite the acrobatic. He's also very strong despite his looks, and can handle himself in a fight. He can speak several different languages, and has a 143 I.Q. Can manipulate the elements, become 'invisible', disappear and reappear somewhere else, is immortal.
Likes:
Playing pranks, telling jokes, partying, playing video games, listening to music, playing his guitar
Dislikes:
Going to school, homework, being the only "strange one" at school, having no parents
Extras: Is in a band in which he sings lead, it is called Daylight Shadows, owns a German Shepherd called Kiba, lives alone in a large two and a half story apartment. Also owns a motorcycle and a black sports car. Has a bad smoking habit.
Family Tree:
神聖な天使/Shinseina tenshi - Mother: STATUS: DECEASED
Alastair Sutcliffe - Father: STATUS: DECEASED
白い羽/Shiroi Hane - Sister: STATUS: DECEASED
こなきろ の 狂気/Konakiro no Kyōki - Twin Brother: STATUS: ALIVE
狐  結衣子/Kitsune Yuiko - Cousin: STATUS: ALIVE
黒 影の血/Kuro Kage no Chi - Cousin: STATUS: ALIVE
秋の赤 月花/Akinoaka, Tsukihana - Aunt: STATUS: ALIVE
秋の赤 竜/Akinoaka, Ryuu - Uncle: STATUS: ALIVE